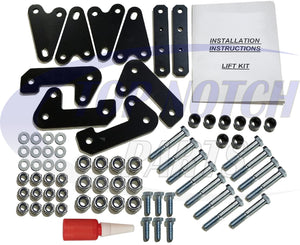 2" INCH UTV LIFT KIT SET FITS POLARIS RANGER 1000 DSL CREW 2016
2" INCH UTV LIFT KIT SET FITS
POLARIS RANGER 570 CREW EPS FULL SIZE 

2015 2016

Polaris Ranger Crew 900 EPS XS Diesel 2013-2017
Polaris Ranger 1000 Crew 2016
Ranger XP 1000 Crew 2016
THIS BRAND NEW AFTERMARKET KIT HAS BEEN INSPECTED FOR THE HIGHEST QUALITY & THE HIGHEST GRADE MATERIALS HAVE BEEN USED IN THE MANUFACTURE OF THIS KIT. NO OTHER KIT CAN COMPETE AGAINST THE RELIABILITY & QUALITY OF OUR KIT. DIRECT BOLT ON !!! PURCHASE INCLUDES:
10x LIFT BRACKET
8x SPACER
12x LONG BOLT
6x SHORT BOLT
12x LARGE LOCK NUT
12x WASHER
12x SMALL LOCK NUT
1x THREAD LOCK
1x INSTALLATION INSTRUCTIONS
PLEASE NOTE: Our Aftermarket lift kit will not fit any 2016 570 Full Size Ranger with front strut suspension. Our lift kit will work with most limited-Edition Ranger with up to 32.5" tires. There will be slight rubbing when it's fully compressed in a hard left or right turn. 1.5" spacers are required in the rear if you are running factory Ranger 900 steel wheels. If running factory Ranger 900 aluminum wheels or aftermarket aluminum wheels then spacers are not required.