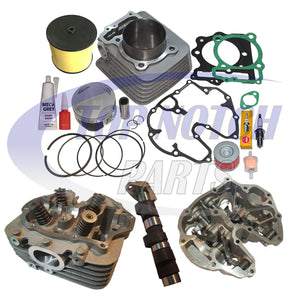 Honda Trx400ex TRX 400ex 440cc Big Bore Cylinder Complete Head Polished Ports Performance Camshaft 99-08
AFTERMARKET HONDA TRX 400EX 440cc BIG BORE

PISTON TOP HAS A CERAMIC COATING PROVIDING SUPERIOR HEAT RESISTANCE WHICH WILL EXTEND THE LIFE SPAN OF THE PISTON.

* THIS IS THE BEST QUALITY KIT ON EBAY! EQUAL TO OR BETTER THAN OEM. THIS IS A DIRECT BOLT ON KIT.

* ALL PARTS HAVE BEEN INSPECTED FOR QUALITY ASSURANCE & ARE BRAND NEW NOT REBORED.

CAMSHAFT DOES NOT USE THE AUTO- DECOMPRESSION MECHANISM.

THIS CAMSHAFT OFFERS 15% INCREASE IN POWER

PURCHASE INCLUDES:
1X CYLINDER (BIG BORE)
1X PISTON.
1X PISTON PIN.
2X CIRCLIPS.
1X COMPLETE SET OF RINGS.
1X HEAD GASKET.
1X BASE GASKET.
1X HEAD COVER GASKET.
1X CHAIN TENSIONER GASKET.
1X COMPLETE CYLINDER HEAD (POLISHED INTAKE AND EXHAUST PORT) 1X PERFORMANCE CAMSHAFT
1X GASKET MAKER.
1X THREAD LOCK.
1X FUEL FILTER.
1X AIR FILTER
1X OIL FILTER.
1X FREE NGK SPARK PLUG.